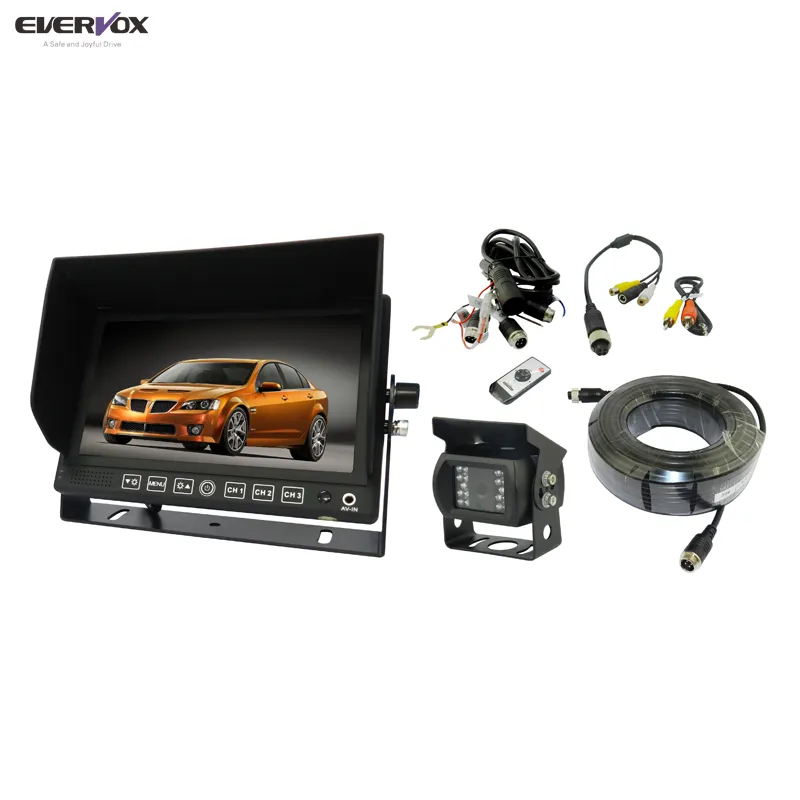 On-board displays, such as in-vehicle displays for reversing, have a common single display, a high-definition AHD display, a waterproof display car display, a DVR-enabled display, and a wireless display. These displays are also divided into different sizes and different numbers of channels. For example, a common 7-inch three-way car display, a 7-inch 4-way car display, a 9-inch three-way display, and the like.
Built-in monitoring of the line test recorder, you can shoot video, help to shoot in the event of an accident, and later used as evidence clues.
There are in-vehicle displays that must have a camera to capture images! Rear view car camera for cars or buses, with infrared night vision function for clear camera at night, waterproof camera with rear view camera, and clear reversing image in rainy days.
Other components such as extension cords, base brackets in a variety of shapes and materials, are used to support small on-board displays with ease of installation and independence.
We are a Chinese manufacturer and manufacturer specializing in the production and sales of wholesale car audio-visual equipment. We sell overseas products such as car monitor / LCD monitor / car headrest monitor / car sun visor monitor / rear view camera / digital wireless system / Full display rear view mirror / AHD rear view system / AHD MDVR system / accessories, you have any idea about car audio and video, please contact us if you need to purchase. Our in-vehicle audition products have passed the following qualifications, RoHs / CE / E-mark / ISO9001: 2015 / FCC / E9 / CE-RED / IP6KX. You are welcome to consult at any time! Just consult us!